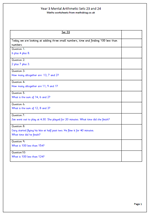 Here we have another two sets of ten mental arithmetic questions for Year 3. This week the questions concentrate on adding three small numbers, time and finding 100 less than a number.
When adding three digits mentally it is usually easier to do it in the order that the question is spoken because it is easier to retain the three correct numbers 'in your head'. However, still look for pairs of numbers which make multiples of 10 as this makes the question much easier to answer.
Perhaps a point to raise here is that each of the questions should be read out loud at least twice, if not more, to gice children the best chance of answering correctly.
By the end of year 3 children should be quite confident with time questions and adding minutes to a set time.