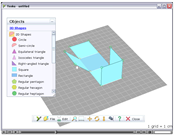 More suited to older students, but well worth a mention is the new software out from Crocodile-clips called Yenka.
Yenka is a new generation of educational software.  There are 13 powerful modules which let you experiment safely with maths, science and technology in a 3D virtual world.
They have 2 products specifically for maths, Yenka Statistics and Yenka 3D Shapes. They let you experiment with concepts in a colourful 3D environment.
To help spread the word, students and teachers can get free home licences all these Yenka products – no purchase necessary! (NB The free home licences unfortunately aren't yet available in India. This is because of an existing agreement they have with a partner there.)
Contact [email protected] or visit www.yenka.com for more information. If you are working with nets of 3D objects then certainly sign up and have a look.