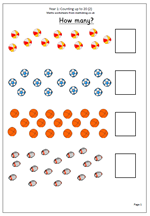 It is often assumed that children in year 1 are capable at counting, but this is frequently not the case and they need plenty of practice reciting the number names and counting on and back.
Of course number rhymes such as 'One, two, three, four, five, Once I caught a fish alive' will help with this.
There are plenty of occasions when counting can be done in a practical situation, such as counting out knives and forks, counting objects, recounting them if they have been rearranged etc.
This worksheet looks at counting sets of objects with numbers up to 20. They balls etc have been arranged so that they do not line up neatly, which makes it harder for them to be counted.