4 star sites
Some of the very best sites on the net for free and paid maths resources.
Why not share your love of maths for a few hours a month?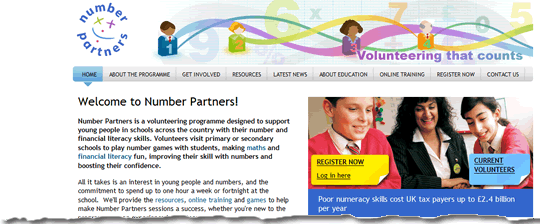 Number Partners is a volunteering programme designed to support young people in schools across the country with their number and financial literacy skills. Volunteers visit primary or secondary schools to play number games with students, making maths and financial literacy fun, improving their skill with numbers and boosting their confidence.
Evidence indicates that not only do volunteers help in supporting young people's maths, but are also vitally important in the development of their personal and social skills.
"It's rewarding to see how giving up a small amount of your time can make a big difference. I was amazed by how excited the children were!"
Volunteer Number Partner
Number Partners volunteers are highly valued in schools and they are in great demand. To read case studies of Number Partners in action and how it can make a real difference to children in schools across the country, please visit the Number Partners website at www.numberpartners.org

Numicon Full Review
Numicon uses a very different approach from most maths programmes in that they use shapes to represent numbers. In this way children, through physically handling a shape, gain a mental image of a number and then cease to rely on the 'concrete' shape. The shapes are colourful, pleasing to handle and very robust – ideal for the Reception classroom. They also have a Home Kit to help with numbers.
Topmarks Education has had a presence on the web for over 9 years, being launched in September 1998 by Chris and Sue Spolton.
It has three main aims:
1. To provide easy access to the best educational websites
2. To help teachers use the web in the classroom
3. To support parents who want to help their children.

Timez Attack Full review
Are you spending tedious hours trying to get your children to learn their tables? Would you like to get your children pleading to learn their tables? Well if the Timez Attack blurb is true to its word your kids will love this.

Maths dictionary for kids Full review
Great dictionary free, on-line. Bright graphics and clear explanations. If you are made of money you can buy it on CD for just over £100. Personally I prefer the free version, including the Australian idiosyncrasies.
Maths dictionary for kids home page
Celebrating ten years online, this site continues to shine, now claiming to be the largest maths site. It includes a huge variety of free resources. Well worth a visit if you have a bright child who loves to investigate maths.
atschool covers KS1 and KS2 in a range of areas or 'classrooms' as they are known. It does have a lot of material on the site, not just maths, and there is a small amount of material which you can freely access. Most, however, is only available if you subscribe.
Many of the maths activities are in the style of an interactive worksheet where you fill in answers on the screen. There are options to have the work marked, to show correct answers, to try the again or to print the activity –all very good ideas.
Claiming to be the leading UK online maths tutor for children aged between 5 and 12. Started in 2006. Whizz say that it is just like having your own private tutor at home for as long as you like, although they recommend only 45 minutes a day.

Primary resources. Full review
Free maths stuff for 5 to 11 year olds produced in Word, pdf, Powerpoint and Flash! Can't be bad!!
Primary resources is another of those UK sites which has been around a long time (9 years), increasing its content on a regular basis.

3 star sites
Well worth browsing: they may well have just what you are looking for. These include sites which mainly provide links to other sites.
Interesting idea – a place for parents, grandparents and carers to share video clips about how to help children with their maths homework. This is a prototype site which will be up and running for just 4 months to begin with. I

Mathszone. Full review
A commendable idea: to collect a variety of free games and activities from different sites which can be used for teaching maths in school or at home. Organised into 9 categories:
Use and apply maths
Count and understand
Number facts, add and subtract
Number facts, multiply and divide
Calculating, add and subtract
Calculating, multiply and divide
Shape
Measuring
Handling data.

2 star sites
Perhaps less maths specialists or still developing their content, but still worth visiting.