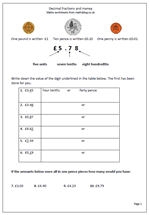 Money is a great way to reinforce place value with decimals. For example in the total £3.45 the digit 4 has a value of 4 tenths or 40p. Money makes it very easy to show tenths (a 10p coin is one tenth of a pound) and hundredths (a one pence coin is one hundredth of a pound).
This page looks at this in more detail, showing that ten pence can be written in two ways; either as 10p or as part of a pound £0.10. There are two further things to remember here:
1. that we should always have two digits after the decimal point when writing fractions of a pound eg £0.30 not £0.3.
2. that we should not include both the pound and pence sign when writing amounts in pounds eg £0.30 is correct but £0.30p is not. it is 0.30 of a pound, not 0.30 of a penny.
This is just one worksheet from a great selection in our Counting and Understanding Numbers section within our year 4 maths worksheets. Why not go and have a look at what else is freely available?