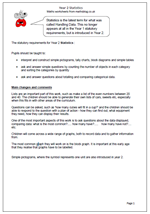 Statistics is the latest term for what was called Handling Data. This no longer appears at all in the Year 1 statutory requirements, but is introduced in Year 2.
The statutory requirements for Year 2 Statistics :
Pupils should be taught to:
•    interpret and construct simple pictograms, tally charts, block diagrams and simple tables
•    ask and answer simple questions by counting the number of objects in each category and sorting the categories by quantity
•    ask and answer questions about totalling and comparing categorical data.
Main changes and comments
Lists are an important part of this work, such as make a list of the even numbers between 20 and 40. The children should be able to generate their own lists of cars, sweets etc, especially when this fits in with other areas of the curriculum.
Questions can be asked, such as 'how many cubes will fit in a cup?' and the children should be able to respond to the question with a plan of action – how they can find out, what equipment they need, how they can display their results.
One of the most important aspects of this work is to ask questions about the data displayed, comparing data: what is the most common?….. how many have?…..    how many have not?…. etc.
Children will come across a wide range of graphs, both to record data and to gather information from.
The most common graph they will work on is the block graph. It is important at this early age that they realise that graphs have to be labelled.
Simple pictograms, where the symbol represents one unit are also introduced in year 2.