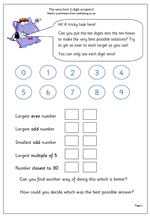 I really like this challenge, partly because there is no, one right way to answer it and partly because it really makes children think.
There are 10 digits, from zero to nine to be placed in the 10 boxes in such a way that the targets can be matched as closely as possible. The catch is that each number can only be used once!
Now the obvious way to start is to make 98 the largest even number, but immediately that means that you can not have 97 as the largest odd number. By the time you reach the last target, number closest to 30, you have only two digits left and only two choices!
But what counts as the best possible answers? This is as big a challenge, if not bigger. I have had a class try to make a set of rules to try to be as fair as possible, but it involved a great deal of addition and subtraction. One group made a set of rules that went like this:
1. Find the difference between 98 and the answer given.
2. Find the difference between 99 and the answer given.
3. Add the two differences.
This will give your total so far – the larger the total, the worse you have done.
I won't continue with this as it might spoil the fun!
This page can be found in our Year 5, Using and Understanding Maths category.