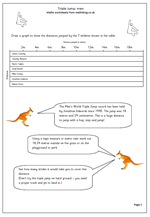 The Triple Jump is a fascinating event, combining great athleticism with co-ordination. Originally known as the hop, step and jump it is an excellent activity to carry out with children using a standing start rather than a run up. The American, James Connolly was one of the early competitors, winning in Athens in 1896.
Triple jumpers take off on the 'hop' stage and land on the same foot. They then take one step onto the other foot before a final jump, landing with two feet into the sand. The rules concerning the landing are the same as for the long jump with the nearest mark to the board being the distance measured.
The distances jumped really are amazing and it is well worth marking out on a field exactly how far they jump. For example our greatest triple jumper, Jonathan Edwards holds the World Record with a jump of 18 metres and 29 centimetres.
The worksheet looks at some of the greatest ever winners of the Triple Jump as well as completing a graph showing the distances jumped and would be best suited to upper primary children and can be found in our Year 5 Handling Data section.